Room Information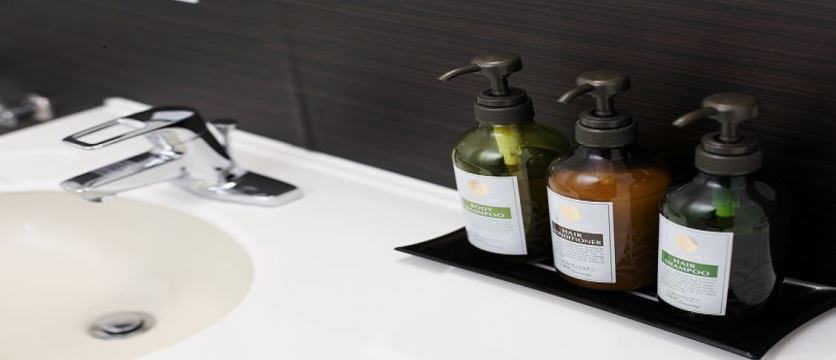 Number of rooms

Total number of rooms 105:Western-style room 105 rooms
Western-style breakdown: 88 single rooms(12 to 14 m²) /10 double rooms(20 m²) /7 twin rooms (25 to 30 m²)

Room supplement

Triple rooms can be set with extra beds.

Standard room facilities

All rooms Bath toilet / All rooms Shower / All rooms Air conditioning / Television / Satellite TV / Empty refrigerator / Trouser press (including lending)

Internet related

All rooms available
[Connection method]Wireless LAN
[PC rental]No
[Internet connection]Free

Amenities

Hand towel/Toothbrush / Toothpaste/bath towel/shampoo/rinse/Body soap/Bathrobe/Medicinal hand soap/Hairdryer/Duvet/Shaving/Shower toilet/Shower cap/Cotton swab/Comb / Brush

Facility content

Non smoking room / ice making machine

Service & Leisure (including arrangement)

Cleaning service / Massage(Toll)

Credit cards available locally

JCB / Visa / Master / AMEX / UC / DC / NICOS / Diners / SAISON / UFJ / Debit Card

Standard check-in time

14:00

Standard checkout time

11:00

Supplement for amenity

For women gift amenity set (lotion, milky lotion, make-up remover, body sponge, cotton, cotton swab, hair rubber, brush).
Internet connection is available in all rooms.Laundromat, 3 dryers installed each.
Installation of hydrogen water in lobby(All-you-can-drink for one day 330 yen per person)

Cautions

(For use with three or more people)
Please contact us by telephone if you are using more than 3 people.

(Child Fee)
Elementary school student, Free
If it is more than 3 people in a twin room, it is free if you sleep together even if you are in elementary school or higher

(For combined use with other discounts)
The reservation from this page is a 500 yen discount of regular fee.
It can not be used in conjunction with other discounts such as contracted company discounts.
However, since a discount rate higher than 500 yen is set for long term stay discount,
Long stay discount rate is applied from the total price of the room.

(For long term stay discount)
For phone booking only
7 consecutive overnight stay: 20% discount from normal room rate from 7th night when paying
Over 30 consecutive overnight stay: 30% discount from the normal room rate from the 30th night at the time of payment
The above discount does not apply to the net reservation.